David Humphreys – In His Own Words
A speech by Derby Historical Society Executive Director Robert Novak Jr., at the 52nd commemoration of Roger Sherman and David Humphreys, at the David Humphreys gravesite at Grove Street Cemetery in New Haven, CT, the morning of July 4, 2003.
---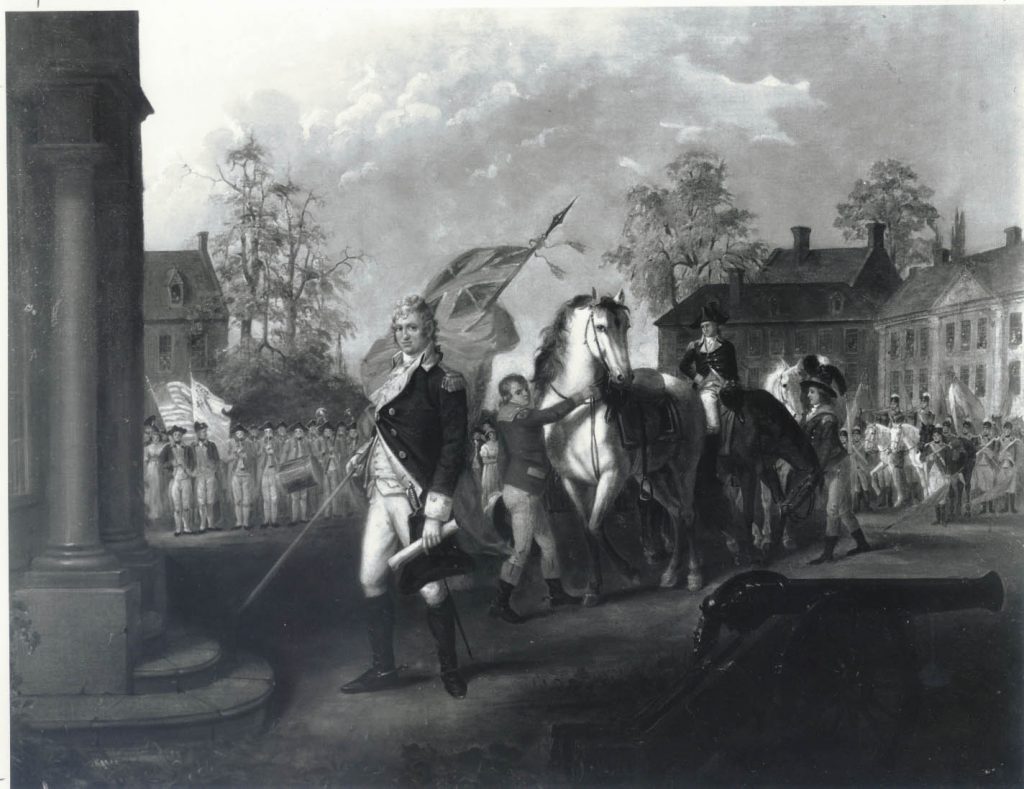 Good morning. I'd like to speak a few words about the first Independence Day, and how the trials and tribulations of our new nation could be summarized in the person of David Humphreys, whom we honor today.
While Humphreys no doubt had the education to easily fit in with signers of the Declaration of Independence, such as Roger Sherman, what he lacked was life experience. He only 24 years old on July 4, 1776, five years past graduation from his beloved Yale, in whose shadow he now lays.
David, in fact, was at home in Derby on that historic date. He had only recently returned, being unable to continue as tutor for the children of Lord Philipse, one of the most prominent Loyalists, or Tories, in the New York City area. It appears the young tutor had tried to live with the fact that his views radically differed from that of a man who, in many other respects, he liked and admired. But, finally unable to reconcile the differences, he regrettably terminated the relationship. It was, in many ways, much like his country's break with England, and he also shared its prospects of an uncertain future.
With nowhere else to go, he returned to his parent's homestead in Derby. His biographer speculated the homecoming contained "…a warm greeting from his father and mother, and much talk over his experiences among the Loyalists. And as the whole family was thoroughly interested in the Continental Cause, ardent wishes would be expressed for the success of the American arms".
Indeed, David's family was already active in the Revolutionary cause by July of 1776. His father, a Congregationalist minister, preached its virtues from the pulpit. Two of David's older brothers were also active, one of which, Elijah, was a major in the local militia. This did not stop him from marrying the daughter of the Episcopal minister, one of Derby's most prominent Loyalists. Needless to say, holidays must have been very interesting when this family got together, and the complex relationship serves as a reminder that the independence issue was not as clear-cut as we may think today.
Just before July 4, 1776, David Humphreys returned to New York, visiting the City and sharing a tent with his Derby neighbor, Captain William Hull. The City was under General Washington's strict military rule, as the British were expected to attack at any time. Like his country, David's destiny was at a crossroads, and, as is true of virtually all the patriots of the time, the path he was to take, and the direction it would lead, was anything but certain.
Inspired by what he saw, he wrote a poem he hoped to dedicate to Washington. Writing Col. Samuel B. Webb, then the General's aide-camp, Humphreys stated "Dear sir. As I was so unfortunate not to see you, but for a moment when I was in town, I must take the liberty to trouble you with a line, and to enclose a short piece of poetry, which I wrote when I was last in New York." The letter concluded "I expect in a few weeks to be in New York. When I shall have to the opportunity to tell you how much I am your sincere friend and humble servant. Signed, David Humphreys". The date was July 8, 1776, and this is the earliest known writing from David Humphreys.
Within a month's time, Connecticut hurriedly organized and rushed to New York's defense the Second Militia Regiment. Accompanying them was David Humpheys, serving as a volunteer Adjunct to the Regiment. David had kept his promise to return to Col. Webb, only this time, as a comrade.
Prior to leaving home, he wrote a poem to his friends at Yale, where he poured out his heart, in what is now known as his "Sonnet Number 1", which began:
"Adieu, thou Yale, where youthful poets dwell,
No more I linger by thy classic stream.
Inglorious ease and sportive songs farewell.
Thou startling clarion break the sleeper's dream".
He was idealistic, perhaps a little naïve, and definitely what a soldier of today would call "green", but he didn't have the luxury of remaining that way very long. On September 15, the British landed in Manhattan, and Humphreys found himself in the middle of a rout. His fellow troops in panic, and the Colonel of the Second Connecticut, a fellow Derby resident, killed, David would recall "We joined the army, after dark, on the Heights of Harlem. Before our Brigades came in, we were given up for lost by our friends. So critical indeed was our situation and so narrow the gap by which we escaped, that the instant we had passed, the enemy closed in by extending their line from river to river".
Humphreys found himself with a dispirited, nearly broken group of Connecticut soldiers, reflecting, "The warmth of their enthusiasm seemed extinguished". The following day, David participated in the Battle of Harlem Heights, which saw the British retreat for the first time in the campaign. Humphreys recalled the event had "a surprising and almost incredible effect upon the whole army…every visage seemed to brighten, and to assume, instead of the gloom of despair, the glow of animation. This change, not less sudden then happy, left little room to doubt that the men, who ran the day before at the sight of the enemy, would now have conducted themselves in a very different manner".
The ill-fated New York City campaign would continue, but Humphreys role was finished. Washington wrote the Second Regiment had been reduced to "almost nothing", and accordingly discharged them, along with Humphreys, on September 24, 1776.
The following winter must have been difficult for David, as news of the daily travails of Washington's army continued to flow into Derby. Already a war veteran, David could have honorably put his military career behind him, and resumed his life as an academic, perhaps even returning to Yale, but his restless spirit would not allow it. When Congress authorized a Continental Army, Captain David Humphreys joined Connecticut's Sixth Continental Regiment, organized on January 1, 1777. Within a few months he was promoted to a Brigade Major, serving as Assistant Adjunct General of the Regiment's First Brigade. His biographer wrote "From this date to the close of the war, Humphreys was constantly engaged on staff duty with one General or another".
He served some of the finest American generals in the war, culminating when his neighbor and former tent mate, now Lt. Col. William Hull, recommended him as aide-de-camp to General George Washington. Humphreys would recall in verse:
"I too, perhaps, should Heaven prolong my date,
The oft-repeated tale shall often relate;
Shall tell the feelings in the first alarms,
Of some bold enterprise the unequaled charms,
Shall tell from whom I learnt the martial art,
With what high chiefs I played my early part;
With Parson's first whose eye with piercing ken
Reads through their hearts the characters of men;
Then how I aided in the following scenes,
Death-daring Putnam – then immortal Greene
Then how great Washington, my youth approved".
After the Battle of Yorktown, Humphreys was entrusted to deliver the surrendered British standards to the Continental Congress, effectively breaking the news to the world the Revolutionary War was over. He would go on to other great things in his incredible lifetime, negotiating commercial treaties in Europe, and serving in Connecticut's General Assembly. He wrote books and poems, including the only biography of George Washington authorized by America's first President himself. He was appointed Minister to Portugal, in effect becoming America's first ambassador to any foreign country, and was later transferred to Spain. He returned to Derby with a flock of about 100 Merino sheep, and promptly established the first, but by no means last "manufacturing village" in the Lower Naugatuck Valley. Humphreys continued to be active in the military serving as Commander of all Connecticut militia during the War of 1812.
Much like his country, the restless 24-year-old man who contemplated his uncertain future on July 4, 1776, had evolved in ways he could not have possibly imagined. However, his vivid memories of the trials and tribulations, the greatness and uncertainty, indeed what came to be called the Spirit of 1776, never left him.
It is easy for one to call him or herself a patriot nowadays. We live in a time when we face threats from an enemy that has proven his ability to strike within our heartland, so close to where David Humphreys first encountered the British in battle. Our country needs, and continues to be blessed with patriots like those of 1776, both in the mold of the learned, daring signers of the Declaration of Independence like Roger Sherman, and also in the restless dreams, ambitions, and self-sacrifice in our youth like David Humphreys, who continue to heed the call of their country, devoting their talents to military and public service, or volunteering.
I would like to conclude with four lines from our bard, David Humpheys, whose views of July 4 were made quite clear in his poem "Love of Country".
"To Independence, consecrate this day
Demands the tribute of my annual lay;
Protector of that gift of God Supreme,
Though Love of Country! Be this day my theme!".Thank you, and may God Bless America.